Screened Deck Designs and Screened Porch Designs can Extend Living Spaces
There is no better way to increase your living space than through screened deck designs or screened porch designs. With summer's arrival, you want the best of both worlds—the conveniences of an indoor room along with the cool breezes and views that screened porch designs can afford.Combine comfortable and colorful indoor/outdoor seating and rugs with other furniture that allows you to relax or even work in a setting that has all of the great advantages and none of the drawbacks to being in an unprotected space in the outdoors. Chief among these is the ability to keep out bugs and mosquitos with the fully screened porchdesigns or screened deck designs.
Screened porch designs can make a wonderful adjunct to an indoor/ outdoor area that may feature an outdoor kitchen, bar or barbecue area such as in this design. You can easily create the perfect outdoor entertainment space that has a variety ofuseful areas that are all connected with open sightlines for cooking, dining, conversation, mingling or just relaxing.
Creating areas that incorporate screened deck designs can also provide the best of both worlds with traditional uncovered unscreened deck portions thatare joined to areas of covered and screened deck areas.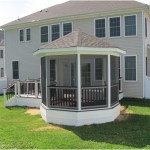 This is the perfect choice for those family members that want a little shade without being separated from everyone enjoying the exposed deck area.
And when night begins to fall, you have a wonderful space to keep enjoying the deck without the intrusion of pesky mosquitos.
If a little more separation is to your liking and you have an existing porch with an exposed deck, you can create a screened porch with a more traditional look and feel while keeping the outdoor deck portion a separate affair.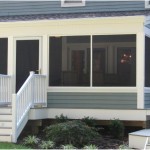 Floor to ceiling screened decks are a fantastic way to create that feeling of openness without any of the potential drawbacks of being outdoors while keeping sight lines fully open.
You can do the same thing with screened porch designs when the porch is raised above the ground. By adding a railing for safety and decoration, you make it a safe area for young ones to play outside free from too much sun or other possible distractions. This design has a wonderful lower deck constructed of pavers with an intricate circle design that compliments the house and screened porch perfectly.
Now that spring and summer is here again, there are countless ways to extend your living space to encompass an outdoor feel.