Inspiration for Outdoor Fireplace Designs
When it comes to outdoor fireplace designs, it's all about how you want to use it. Today's best outdoor decks design specialists are dedicated to helping homeowners create their own unique one-of-a-kind outdoor experience. They do this by working with each client to help them envision what type of ambience they desire. This is especially true when it comes to incorporating an outdoor fireplace.
If you're planning on small groups in an intimate setting, a small hearth design can add to that intimacy with a wide variety of movable seating that fits the budget and the style.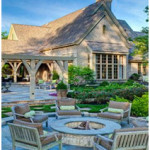 A fire pit provides views from all vantage points and the feel of a campfire setting.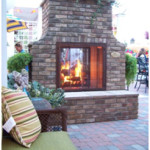 If you throw large parties, consider building a fireplace with two open ends to accommodate more people.
Your fireplace can provide more than just a hearth as built-in seating can provide an extension of the fireplace itself.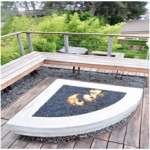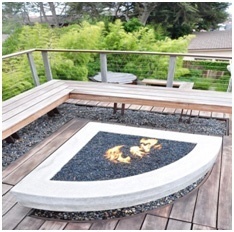 This idea works well with outdoor deck designs……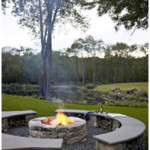 or without.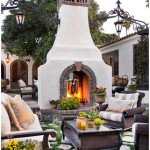 When it comes to incorporating outdoor fireplace designs into outdoor decks, design ideas don't have to be limited by budget. Utilizing small added elements to create immersive representations of locales or themes can be inexpensive ways to borrow from more elaborate and costly designs that give you a similar look and feel.
If your budget can accommodate it, fireplaces like this beautiful standalone can be the centerpiece of a unique themed elaborate patio design.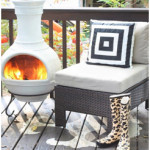 On the other hand, a beautiful Chimnea can provide an equally unique feel that is augmented by perfect furniture choices to create an out-of- the-way setting for one or two people.
Outdoor fireplace designs can be part of practical outdoor living room designs…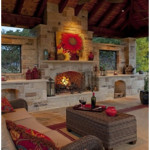 Or they can be part of more elaborate outside living room designs.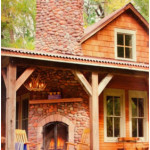 You may be looking for ideas that capture a more rustic setting (keeping in mind the design of the home itself and the proximity).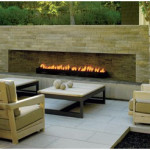 Others may go for a more modern design that still brings aesthetic warmth to the various fun proceedings.
No matter what type of ambience you want to achieve, there are literally thousands of outdoor fireplace designs to borrow from or mimic in their entirety. Keep in mind that when you begin to explore ideas for outdoor decks, design experience from experts like Amazing Decks can help you realize your vision in a unique and beautiful way that fits your budget.