Amazing Screened In Porch and Deck Design Ideas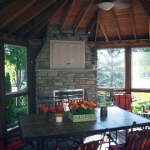 Although the lines can blur between screened deck designs and screened porch designs, the best of breed are far more than just a roof and framing surrounded with screening material. The best of these spaces act as both an extension of indoor living space with the right blend of the outdoors as well as a transitional space to the outdoors that blends with the house and its surroundings.
Building a Screened In Porch
When gathering ideas for screened porch designs it's best to look at them through purpose-driven eyes in order to decide size, orientation, materials, furnishings and amenities. A screened room for entertaining can include additions such as a fireplace to extend its use into chillier nights. It can also include seating for meals and much more like a wide-screen TV, stereo surround sound, larger seating area, and more.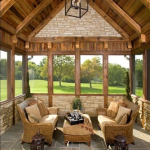 The view is as critical as how you will be using the space. Consequently, if it's more of a get together lounging space for adults that want to take in the great outdoors while watching children play, you may opt for more of a sunroom take like this when choosing among screened porch designs.
Whether you are working with a pre-existing porch that is unscreened or contemplating an entirely new addition, choosing materials and layouts that compliment and integrate with the rest of the home's exterior is the key to beautiful screened porch designs.
Today's screened deck designs can provide the best of both worlds with uncovered portions of the deck integrated with screened deck enclosures.
Options for Screened In Deck and Screened In Porch Designs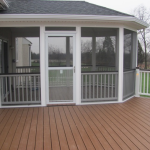 Some screened deck designs are intentionally seamless transitions…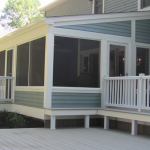 While others opt for more of a separated design between the two areas to allow for different activities and gathering places.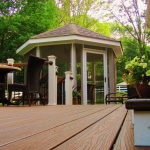 Still others create a true hybrid such as this deck with an integrated screened octagon enclosure that functions as a screened deck area while not being attached to the house in any way, such as with a screened porch.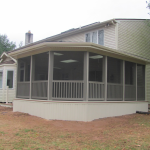 Screen porch designs and screened deck designs can have a variety of finish details ranging from bead board ceilings and elaborate lighting to skylights for increased natural light and much more.
Choosing the best fit for your home's architecture, your desired functionality, and your budget is important when looking at screened porch designs and screened deck designs. By working together with the design professionals at Amazing Decks, you can be sure that your new screened deck or porch will meet your needs as well as the highest construction practices and building codes to ensure many years of carefree enjoyment.
Learn more about our screened in porch and deck designs or contact us today to get started!