Curved Deck Designs Bring Unbroken Rhythm to Backyard Decks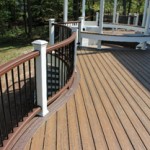 Right angles and straight lines can be beautiful, but we all love the rhythm that is added to our lives when we experience the undulating symmetry achieved through curved deck designs. Today's composite deck materials mean that circles, curves, and more natural angles are all possible.
In this curved deck design it seems that the curves are just for the sake of curves. You can see how the rhythm of the curves adds to the calm the deck can evoke in you when you are relaxing or having a good time with friends and family.
Very often, a curved deck design can be used to differentiate space. These curved deck designs all use their curves as a way to create specific areas for different types of entertaining or relaxing.
By working on multiple levels, you can add to the feeling of separation of space.
The beauty of curves is that they never have to make one area feel closed off from another. You can still have that rhythmic flow that takes you, family, and guests from one area to another.
Curved deck designs don't have to be elaborate affairs.
They can provide that rhythmic element to a single expansive deck or provide just the right curved definition to compliment other elements such as with the shrubs and paver patio below in this image.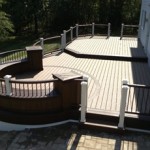 It's always exciting to incorporate curves and circles into curved deck designs to add well-defined seating areas that are still part of the main deck. In this image, they incorporate an integrated curved bench and a step-down to define the circle of this portion of the deck.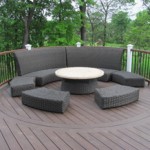 This image goes a little farther by making the bench seating more elaborate and losing the step while keeping the definition of the circle. Notice how they keep many elements of straight lines while being sure to eliminate any right angles wherever possible to add some additional variety.
This take on a curved deck design is all about the seating, which is inviting without being too plush. The basket weave pattern of the seating and the table pedestal give it a nice combination indoor furniture/outdoor patio furniture feel. The fact that all of the elements are movable is a big plus for entertaining.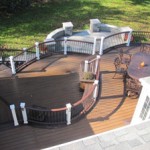 This new angle of a previously viewed design proves that there is no such thing as too many curves in a curved deck design. Multiple levels flowing one into the other as well as a nice curved paver patio at the bottom with a low curved stone wall with stone capper for perfect seating.
In all, curves, circles, and any angle or shape that adds a greater sense of flow to a deck or patio can be as simple or elaborate as you choose. Your only rule is to be sure to make your curved deck design a reflection of your needs and surroundings.