Considerations for a Summer Deck Design
It's not uncommon for people to have a vision for their ideal deck that they realize in stages. The considerations for expanding or redesigning your deck go well beyond your budget and should start with how you hope to use it. For example, saying that you want to redesign your deck to accommodate entertaining is far too broad. You need to identify what type of entertaining you plan to do, how many people you want to accommodate at one time, and the expected age spread of the family and friends that will be calling your outdoor oasis home base for the summer.
Answering these questions will go a lo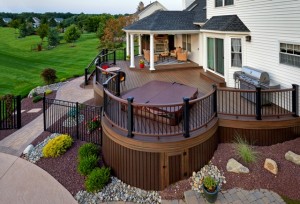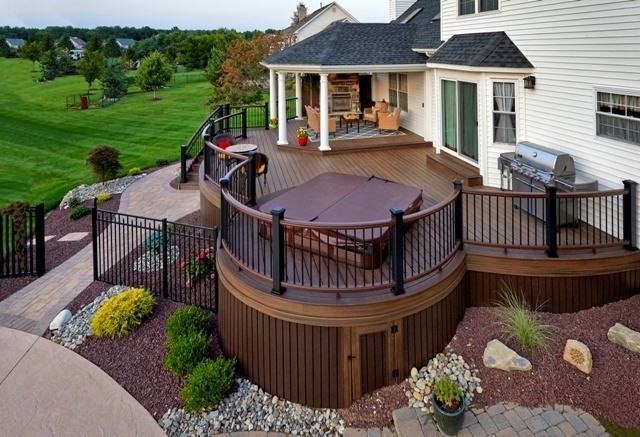 ng way in helping define the layout of the design. For instance, just like your indoor environment has different zones for different activities, the same should hold true for your deck. The biggest difference is that, just as with an interior open floor plan, you will likely want guests to be able to flow from one area to the next.
As one example of outdoor entertaining, most people start off with a grill on their decks, but that can limit space for eating. If you plan to cook often for a great deal of family and friends, then consider a grilling and serving area in addition to a large enough eating area during your design plans.
Keep in mind that you may want to place the grill in a place where the cook can still be a part of the action without having guests in the way. Whether this is done with different step levels and/or built-in counter space, you can create boundaries while keeping sight lines open.
You also need to consider whether you plan on the indoor kitchen being part of the outdoor kitchen/grill area, so close access to sliding doors leading into the kitchen may be an ideal scenario. Another option would be to build an outdoor kitchen. This depends on factors such as indoor kitchen access, space, usage patterns, and your budget.
The layouts of your house and backyard also have a lot to do with the design of your outdoor deck. If your home has two levels, you may consider an upper and lower deck. You could divide the type of entertaining you do where one space is for lounging and conversation while the other is for cooking and eating.
Lounging, gathering, cooking, and eating are entertaining activities that require space for furniture. If you envision having space where people can stand around and converse while also having space for sitting, the type of furniture you choose and where it goes are important considerations you should address with your deck builder.
Depending on the deck design, built-in benches along the perimeter can provide areas where seating and gathering can happen simultaneously without interrupting flow. Loungers or chairs that are meant to permanently occupy a space can be far more plush and substantial than furniture that you plan to move around in order to accommodate the day or night's entertaining. Once again, space, usage patterns, and traffic flow are all considerations here.
A table and chairs for eating in a more formalized setting may be part of your plan, but keep in mind the amount of people you hope to accommodate and how much space that will require. Square, round, or rectangular tables with chairs or picnic style tables with benches are all design options.
Having a hot tub, fire pit, or both as part of an outdoor deck redesign are also considerations. As you incorporate them into your deck design, decide whether you plan to make them part of the open entertainment area or just as an oasis for you and one or two other people.
Furthermore, safety is an important factor that will shape the deck redesign in terms of stairs, railings, height off the ground, and lighting. Designing a deck where only adults will be accommodated and one where children can play safely can have different considerations in terms of layout, flow, and structural barriers.
Last but not least, all of these possibilities affect yearly wear and tear. Heat, rain, snow, and ice as well as spills and traffic patterns all can take their toll on wood decks. While composite decks still require a level of maintenance and upkeep, it is far less than what you'd encounter with a wooden deck.
Whatever route you take when redesigning your deck, it's best to start with a list of all of the things that you want to be able to do on your deck. Once you have the list, you can prioritize them so that as your budget meets your dreams, you can hold off on things at the bottom of the list that aren't as important to you. Keep in mind that a deck design can be something that happens in stages. So, even if your budget doesn't accommodate doing everything at once, having the final design picture in place will allow you to create a deck that will grow into your dream deck over time.