Homeowners in Philadelphia love their decks. As a deck builder PA specialist that they call on to create their dreams, Amazing Decks, we're just as proud of them as the homeowner. It seemed like a great idea to create a local Philadelphia Gallery Page to showcase some of those great designs.
Although we have some of the best designers in Philadelphia construction, when it comes to the finished design for their decks, PA homeowners are the real stars. True, some do arrive with little idea of what is possible. However, once we open the door to the Amazing Decks possibility trove, they're off and running.
Then of course there are those that have very specific ideas of what they want. We're proud to say that we can not only accommodate the design dreams of these clients, but also help them take those dreams to new heights with subtle touches that make their decks more usable or integrated into the landscape or home.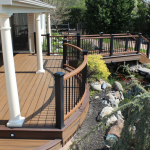 It can sometimes be difficult for Philadelphia homeowners to describe their dream deck in words. For instance this first deck design might be verbally described as including porch elements such as a roof and traditional round porch columns with a bridge. Oh, and wrap it all in a contemporary look.
The visual reality was breathtaking because as deck builder PA experts, we speak every Philadelphia homeowner's language.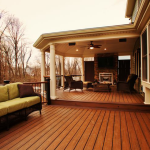 The same can be said for this Philadelphia homeowner that wanted some of the same traditional elements merged with a contemporary design. In their case they wanted to add a great outdoor gas fireplace.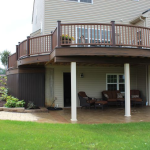 This outdoor deck with underside porch design, paving elements, and stairs created an outdoor porch and deck that brought this home alive in more ways than one.
With some decks, PA homeowners like to live outdoors in the round.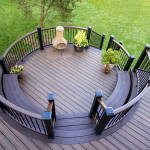 This round deck with custom seating area and fireplace element provides a subtle division from the rest of the deck while still providing a seamless whole.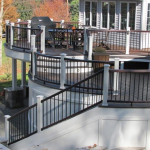 Then again with other decks, PA homeowners see curves as the central design element of a great deck, such as with this round multi-level deck.
This Philadelphia home was the site of a perfectly executed tree house and vintage lantern deck design with the help of their deck builder PA experts at Amazing Decks.
The multi-level elements are a perfect fit on a property with a slope. It also works well with their desire to have the lower level primary deck area placement located around the corner of the house.
These are just a few of the many decks PA homeowners have as their perfect outdoor living areas. Although we showcase a number of designs on our website as well as these taken from our Pinterest page, a Philadelphia gallery page is a great way to shine a light on the combined ideas, ingenuity and design expertise of Philadelphia homeowners and their deck builder PA choice of Amazing Decks.